Tuition

Tuition for any course includes all materials, tests, examinations and communications. There are no taxes.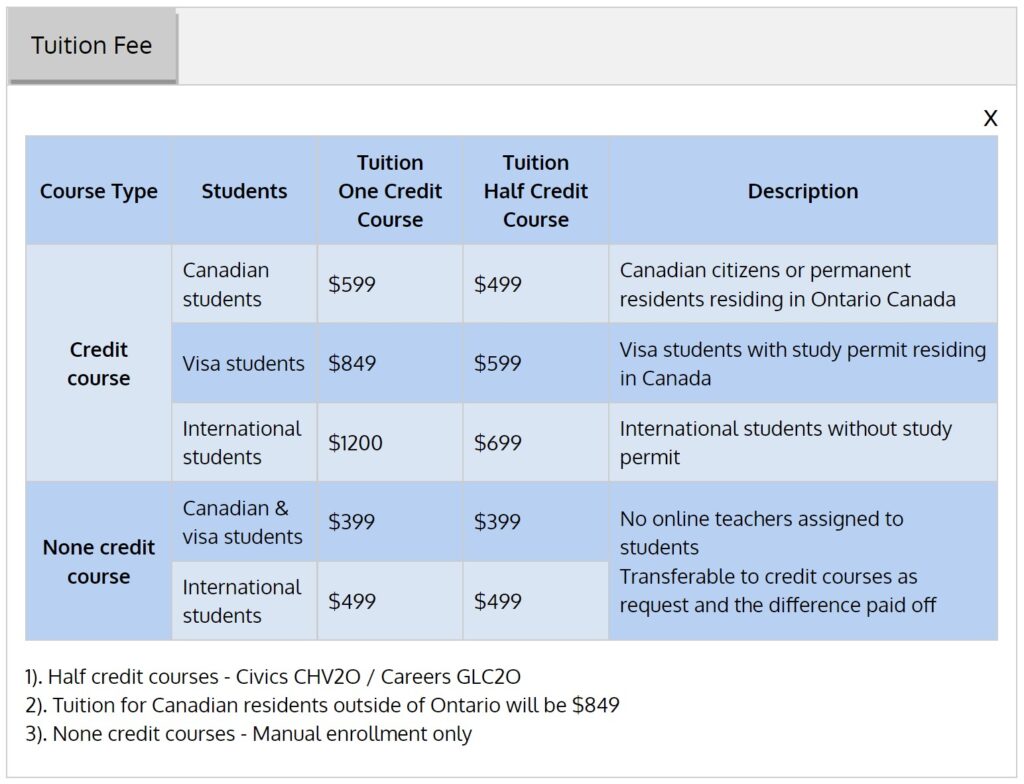 Additional fees

To majority of the students, the online course tuition fee is the only fee you pay to Toronto eLearning School.

Additional fees may apply in some certain circumstances:

Part-time study refers to students taking one or more courses with Toronto eLearning School, while maintaining active status at their home school.

Full-time study refers to students who apply for Toronto eLearning School as their home school (the main school at which they take the majority of the courses, and which holds their Ontario Student Record- OSR and may issue them OSSD diploma). It is required to apply for minimum three (3) courses per semester to meet this qualification.

Registration

Option 1). Online Register. You can start your course in minutes.

You will need to
(1) Create your account to Register ( If you already have an account, please go to step 2 )
(2) Login, and then choose your course ( Click "All Courses" on the right-hand side in my login page )
(3) Choose your payment method.
After you submit your account information, you will receive an email confirmation of registration and login/password. You will then be prompted for a payment option -PayPal, Visa or Mastercard.
Click here to register online.
Option 2). Fill in PDF Form.

Click here for local/visa student Registration Form

Click here for international student Registration Form

How Can I Pay

Click here to see the payment options


Student Enrollment Policy
There is no set schedule for a student to follow or due dates to complete assignments. The student can start the course after 48 hours of registration and move through at his or her own pace. Students are encouraged to complete their courses in 2-6 months, but may apply for an extension of another 3 months (Additional fees may apply). The course must be completed within 12 months of enrollment, otherwise he/she will be withdrawn from a registered course.
Refund Policy
Toronto eLearning School does not issue refunds. Once enrolled, our administration undertakes many tasks, such as activates the student account, completes the enrollment, contracts the teacher, establishes student files, tracks the enrollment for Ministry purposes, etc. Even if the student does not begin the course, the work in our school is almost completed.
Course Transfer Policy
A student has the option to transfer from one course to another within the first week of registration. There is an administrative fee 100 Canadian Dollars applied for the course transfer.
Transfers will not be available to a student who has completed more than two assessments or who has not requested a transfer within the first-week period.
Confidentiality Policy
Please note that Toronto eLearning School may communicate with parents or legal guardians of students under the age of 18. In addition, Toronto eLearning School will communicate with any student's post-secondary schools.
All policies may be modified at any time at the Toronto eLearning School website. The use of Toronto eLearning School courses indicates that the student and/or parent/guardian accepts these aforementioned policies.